The Balochistan and Sindh regions in the south sustained the most damage.
The recent floods across the nation, according to Mr. Khawaja Saad Rafique, federal minister for Pakistan Railways (PR), has damaged the rail network in a level that has never before been seen, particularly in the Balochistan and Sindh provinces in the south.
The Taftan-Dalbadin line to the Iranian border has resumed services, although the Dera Allah Yar-Jacobabad line is still under water, according to Rafique, who claims that his department has been striving to get things back to normal. After a bridge collapsed last month, services between Karachi and Quetta were cancelled. PR is working to allow relief supplies from Turkey to reach Quetta by rail.
"The unrelenting monsoon rains and floods have ruined the bridges that separated Sindh and Balochistan provinces from other areas of the country, in addition to destroying many railway tracks," claims Rafique. When the floodwater recedes, the department's technical and non-technical workers will work in three shifts to restore the rails.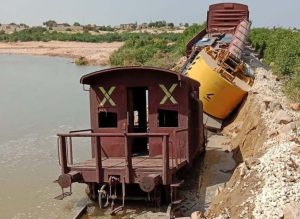 Five fast trains operated by PR between Karachi and Peshawar on the Main Line-I have also been put on hold till the tracks have been restored after flooding on the Tando Masti Khan – Gambat and Mehrabpur – Lakhro sections. Balochistan's several places have also been impacted.
Due to the unexpected monsoon rains and flash floods, PR is losing about Rupees 90m ($US 385,025) per day. This financial impact is made worse by the need to reimburse passengers, and the company is now having trouble paying its employees.
With losses anticipated to reach Rupees 400 billion, PR has reduced benefits for its top personnel and is controlling its fuel use to cut costs