Check online all the details about Pakistan Railway E Ticketing from here. Book your train ticket online from here. It is a travel document purchased on websites, and mobile applications. There is no need to print tickets thanks to e-tickets. In other words, e-ticket or online tickets have replaced print ones. You can also check daily train schedule from this page. Here Pakistan railway online booking 2023 details are available.
Pakistan Railway E Ticketing
In the past, purchasing Pakistan tickets for trains was not an easy job. The process was boring. People had to stand in line for long periods of time, and then pay the necessary amount and were able to get their tickets after much effort. It's now very odd as people do not need to bother with it tickets to train stations because technology has given the world so many amenities that they want more services in all fields of their lives. Pakistan railway's electronic ticket system, as well as Pakistan railways booking tickets, are also part of this system.
Railways E Ticketing System
Ministry of Railway Pakistan has introduced an online ticket system for passengers. For the facility of passengers, Railway has introduced an online ticket system for the first time in history. Secondly, the Railway department wishes to stop corruption through E-services.
Nowadays Railway has digitalized its Pakistan railway ticket online system. Get an online ticket and reserve your seats for the journey on rails. Instead to wait and stand in long lines for ticket purposes, always purchase online rail tickets. You have to deposit the ticket amount online via Easy Paisa and Jazz Cash apps. Ticket buyers will receive a confirmation SMS which you have to show before Ticket checkers.
It is mandatory to save the confirmation SMS of online ticket purchasing. Anytime Pakistan railway ticket checkers will see your ticket confirmation SMS.
The passengers can make their online booking of the tickets via e-ticketing system anytime and from anywhere through the official website of the Railway. Along with this, the passengers can also book their tickets through the mobile app Pakistan railways application for their bookings.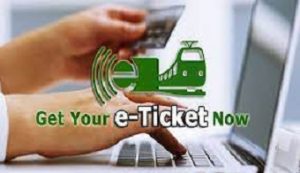 How To Book Trains Ticket Online
You can make the railway booking easy through the app by following the given instructions. You can also check railway booking online Pakistan details below.
Login to the website
Search for the particular train schedule you want to travel to and book the ticket.
Book the seats from their scheduled plan.
Then pay the fare via Debit/Credit card/ Mobile Account/UBL Omni Shops.
After completing all the rules and booking the ticket successfully, you pay through any of the given payment methods. After a successful transaction you receive a confirmation SMS, actually your given official ticket, so please do not delete it in any case.
Passengers can make their railway e-ticket booking through the official website of the Railway by following the given instructions
Go for e-ticket button
Fill out personal information e.g. full name, mobile number, CNIC, and email.
Submit the information to register.
Receive a code through SMS on the mobile and email address.
Enter the given code to complete the verification process.
After successful registration, you can book the ticket for your journey & check the train timings. After submitting the payment you get an order ID in 2 hours if your fee is not received your ticket will be canceled. You can also use Pakistan railway online booking app to book your ticket online.
Pakistan Railways Contact Numbers
Landline No: 042-99201941
Railway Auto Dial: 042-2872
Fax: 042-99201961